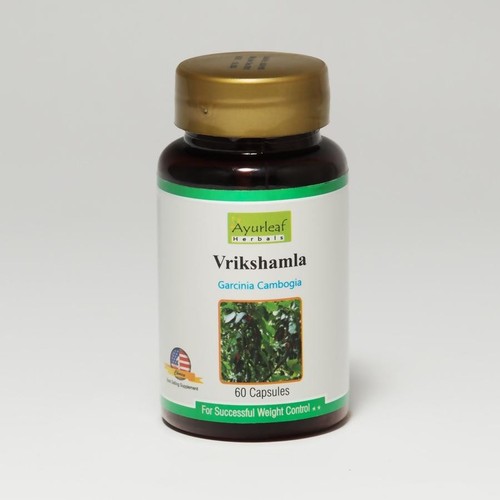 Vrikshamla
Product Code : 17
Product Description
Vrikshamla
The fruit of the Garnicia tree was traditionally used to make syrup which had a cooling and soothing effect on the body in the hot summer months.
But Ayurvedic texts have revealed that it may be one of the best kept secrets of fat loss.
This wonder berry that has a sweet yet tangy taste, is actually packed with powerful components like HCA (hydroxycitric acid), garcinol, isogarcinol, xanthochymol and isoxanthochymol. It also contains useful amounts of Vitamin C and Ascorbic acid.
The extract of the fruit is very effective in weight management and may limit the synthesis of lipids and fatty acids.
Slowly, backed up by rigorous clinical studies, western countries are recognizing Vrikshamala as a potent fat burning agent and the fruit is now highly sought after around the world.
Benefits of Vrikshamla
Irrespective of whether you are trying to lose weight or trying to maintain your overall well being, the Garnicia Indica fruit may be one of your best choices.
It is rich in HCA which is a widely used cholesterol reducing component
It is known to improve cardiac functioning
It helps in suppressing the synthesis of fatty acids
It may help suppress appetite
Is a powerful fat loss agent
Is rich in antioxidants that helps neutralize free radicals
Contains B-complex vitamins, and minerals like potassium, manganese and magnesium
Contact Us
1/a, Empress Business Bay, Near Uti Mutual Fund, Road No 11, Midc-Andheri East, Mumbai, Maharashtra, 400093, India