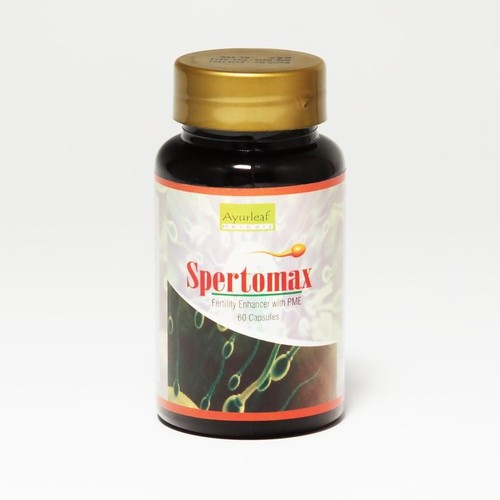 Spertomax
Product Code : 26
Product Description
Spertomax
According to the WHO, males need a sperm count of at least 20 million to be able to reproduce.
20 Million is not a huge number when it comes to sperm count, yet a large percentage of the population faces fertility problems largely related to males.
The condition is called Oligospermia.
Sperm production is a complex procedure that involves multiple organs. While the actual sperm may be produced in the testicle, it is the hypothalamus and the pituitary glands in the brain that stimulate the production of sperm.
So, a low sperm count or poor sperm motility may be caused if there is a problem with any one of these systems. It may also be caused due to blockages, infection, abusive lifestyle, varicocele or anti sperm antibodies.
And once again, synthetic drugs do not have a concrete answer to this increasingly common problem.
Herbs for healthy Sperms
Clinical research on the effect of certain herbs on sperm motility, sperm morphology and sperm count has revealed that the answer may lie in Ayurveda.
Herbs like Ashwagandha and Safed Musli, which have a multi tiered action that affects both the brain as well as the sexual functioning of a person, can have a tremendous positive effect on one's sperm count.
Spertomax
It took us a while to formulate Spertomax because we were not looking for something that would just increase sperm volume or just increase sperm motility.
Our goal was to create a formula so unique and powerful that it addressed all the problems related to sperms and fertility that men face.
But we have the best scientific brains working with us and so, here we are with Spertomax.
Spertomax is the most powerful herbal formulation ever created for male sexual health. It boosts sperm motility, increases sperm count, promotes the production of healthier sperms and also helps to control premature ejaculation.
Contact Us
1/a, Empress Business Bay, Near Uti Mutual Fund, Road No 11, Midc-Andheri East, Mumbai, Maharashtra, 400093, India