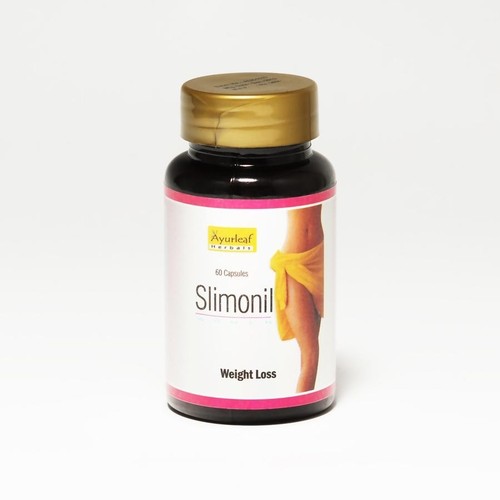 Slimonil
Product Code : 30
Product Description
Slimonil
It is estimated that almost 60 million Americans above the age of 20 are obese. Obesity is the number 2 cause of preventable death in the US.
The numbers are much higher if you look at the statistics worldwide.
For a condition so prevalent around the world, there are very few cures or treatments.
Most people pop fat burners or synthetic pills for losing weight which at best will suppress the appetitive or mess havoc with the liver functioning.
Yes, Liver toxicity is a major concern with synthetic fat loss pills.
How can one naturally lose weight?
Ancient Ayurvedic texts recommend the usage of one or multiple herbs for burning off excessive fat in the body and to prevent the formation of fat.
When used in the right dosage and the right combination, these herbal extracts can be extremely effective in treating obesity, cholesterol and preventing a horde of ailments that are a result of these two conditions.
The benefit of using pure herbs is that it does not have severe and long lasting side effects. Side effects if any are mild and temporary.
Contact Us
1/a, Empress Business Bay, Near Uti Mutual Fund, Road No 11, Midc-Andheri East, Mumbai, Maharashtra, 400093, India