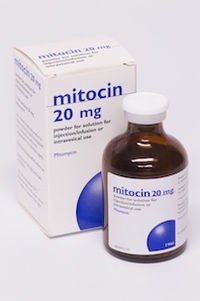 Mitocin 20mg Injection
Product Code : 13
Product Description
Mitomycin belongs to the group of cancer-fighting medications known asantineoplastics, and specifically to the group of antineoplastics called actinomycins.Another actinomycin is dactinomycin.
Mitomycin kills cancer cells by interfering with their growth and reproduction. It is used alone or in combination with other antineoplastic medications, radiation, or surgery totreat certain types of stomach and colon cancer. It is also used to treat a certain type of cancer of the bladder.
Your doctor may have suggested this medication for conditions other than the ones listed in these drug information articles. As well, some forms of this medication may not be used for all of the conditions discussed here. If you have not discussed this with your doctor or are not sure why you are being given this medication, speak to your doctor. Do not stop using this medication without consulting your doctor.
Contact Us
1/a, Empress Business Bay, Near Uti Mutual Fund, Road No 11, Midc-Andheri East, Mumbai, Maharashtra, 400093, India