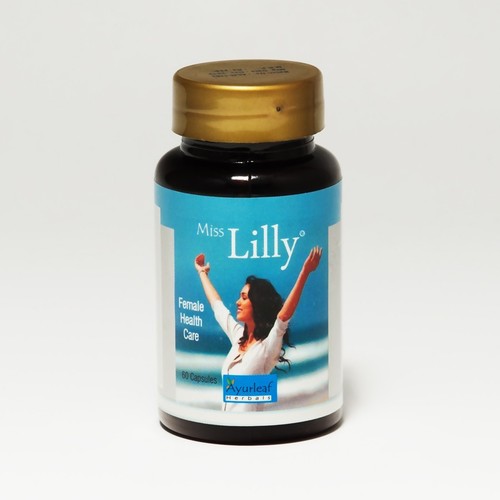 Miss Lilly
Product Code : 21
Product Description
Miss Lilly
The female body is considered to be one of nature's most amazing creations that goes through a series of hormonal and physical changes every now and then.
And to be able to cope with these changes, an average female has very specific nutritional and dietary requirements which are often not met leading to a lack of vital nutrients, minerals and vitamins.
This leads to problems ranging from mild to severe and in many cases extreme.
Mild problems include skin related ailments, acne, breakouts etc. Whereas in severe cases, it can lead to hormonal imbalance, lack of libido, vaginal dryness, stress, anxiety, anemia and even loss of bone mass in females.
The complete Health Tonic for Females
Ayurleaf's panel of researchers, scientists and Ayurvedic experts were working for years to come up with a complete health rejunavator for females that has a holistic approach and meets the depleted nutritional requirements of the female body.
The result is Miss Lily, a unique and powerful herbal capsule that contains a potent blend of herbs that not only help combat the many hormonal problems that females encounter but also promotes overall well being.
Unlike miracle cures and mystery potions, Miss Lilly is created on the basis of hard facts and tried and tested herbal extracts.
Shatavari (Asparaus Racemosus): Shatavari is highly renowned for its efficiency in reducing the symptoms of PMS and also reducing pre menstrual cramps, hot flashes and mood swings. It allows females to lead a normal and stress free life.
Gokshuru (Tribulus Terrestris): Hormonal fluctuations can at times lead to sexual dysfunction and lack of libido in females. Gokshuru is an aphrodisiac that can restore the libido and also boosts energy in females.
Ashwagandha (Withania Somnifera): Ashwagandha is one of the most popular herbs used in traditional Ayurvedic medicine. It helps reduce stress and anxiety and also promotes fat loss in females.
Giloy (Tinospora Cordifolia): Giloy is a powerful blood purifier and it promotes healthy looking skin. It is very effective in helping reduce skin allergies, acne, pimples and other skin problems.
Jeevanti (Lectademia Rectilata): Jeevanti promotes eye sight and also improves the hearing sense. It is also effective in reducing cough, cold and boosting the immunity.
There are many other such herbs in Ayurleaf's Miss Lilly capsule which help combat one of the many problems that females encounter.
Contact Us
1/a, Empress Business Bay, Near Uti Mutual Fund, Road No 11, Midc-Andheri East, Mumbai, Maharashtra, 400093, India