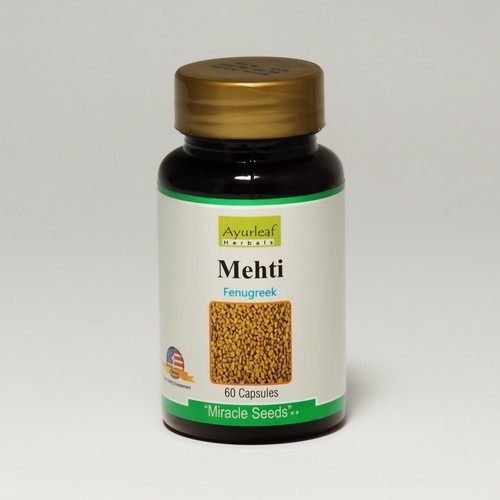 Methi Capsules
Product Code : 10
Product Description
Methi Capsules
Fenugreek is another common cullinary ingredient that has profound importance in Ayurvedic science. It has been used for thousands of years as a medicinal herb in different cultures around the world.
Some people know it by the names Greek Hay, bird's foot and trigonella and it is usually consumed after boiling.
Loaded with phytoestrogens, Fenugreek is one of the safest ways to combat a plethora of hormonal problems that occur in a female body. From treating symptoms of Menopause and PMS, it also is known to stimulate the production of breast milk in lactacting ladies.
For males, it is known to possess aphrodisiac properties and is a potent libido booster.
Benefits of Methi
Pure and concentrated Methi extracts can be used for the treatment and benefits of a plethora of health conditions.
It is highly beneficial for the treatment of kidney ailments
It improves the digestive functioning including upset stomach, constipation, and inflammation of the stomach (gastritis)
It is an excellent cardiac tonic and prevents hardening of the arteries (atherosclerosis) which may lead to heart attack.
It reduces the levels of harmful cholesterol
It is a powerful libido booster in males
Improves menstrual function and cures PMS related symptoms in women
Improves the production of breast milk in lactating women
Contact Us
1/a, Empress Business Bay, Near Uti Mutual Fund, Road No 11, Midc-Andheri East, Mumbai, Maharashtra, 400093, India