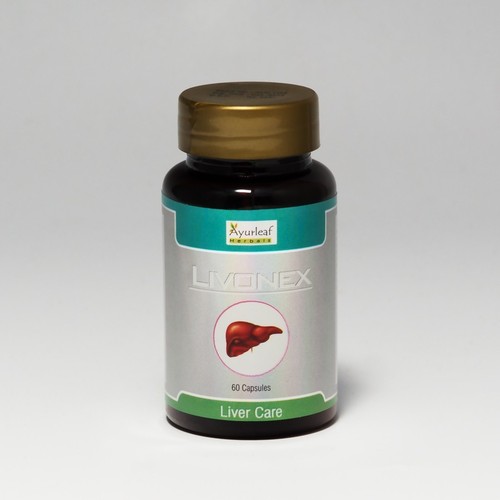 Livonex – 33
Product Code : 25
Product Description
Livonex – 33
The liver is undoubtedly the most important organ in the human body that is burdened with the task of cleansing our system and eliminating wastes.
But disease, lifestyle and the addiction to quick fix synthetic medications can affect the functioning of this organ profoundly.
Be it excessive intake of alcohol or the usage of anabolic steroids for body building or excessive intake of painkillers, the liver can be permanently damaged.
Mild effects can be liver toxicity which is curable and reversible, but long term effect can be cirrhosis which can be fatal.
The effect of a weak liver can directly or indirectly affect the functioning of other organs also. The digestive function is hampered and also, it can be seen on one's skin and hair.
Naturally Protecting your Liver
Someone wise once said that 'Prevention is better than cure'
And with natural herbs, you can prevent and protect your liver and in some cases, reverse the damage that is done.
Ayurveda recommends the usage of one or more herbs for reducing hepatomegaly and treating jaundice.
In fact, even in modern India, people rely on herbal cures for treating jaundice and hepatitis.
Ayurleaf brings to you, the most powerful liver protecting capsule ever formulated, Livonex – 33.
Livonex – 33: The complete Liver Cure
It took us years of research and effort to come up with a blend of herbal extracts that protects the liver and rejuvenates it.
While it is easy to use single herbs, they are not as effective. Livonex – 33, on the other hand is a powerful combination of herbs that protects the liver from damage.
Kutki (Picrorhirza Korroa): Kutki is a bitter herb found in the Himalayan Mountains. It is a powerful liver detox agent that has been used traditionally for the treatment of Hepatitis C with no side effects. It stimulates the release of Bile and today, is amongst the most sought after herbs in the United States due to its effectiveness in protecting the liver.
Sarpankha (Tephrosia Purpurea): Ayurvedic texts speak about the effectiveness of Sarpankha in bilious febrile attacks and the obstruction of the liver. Clinical studies however have revealed that it is extremely effective in treating cirrhosis and viral hepatitis.
Bhumi Amla (Phylenthus Niruri): Bhumi Amla is a powerful liver detoxifier that helps eliminate toxin buildup. It is also an effective cure for fatty liver.
Daru Haldi (Berberis Aristata): Daru Haldi has displayed excellent hepatoprotective and diuretic properties. It is an effective remedy for the treatment of jaundice and also an enlarged spleen.
Livonex – 33 also contains Bhringraj, Gali and Punarnava which help improve digestive function and aids general liver functioning. These also reduce free radical damage and are anti ageing supplements.
Contact Us
1/a, Empress Business Bay, Near Uti Mutual Fund, Road No 11, Midc-Andheri East, Mumbai, Maharashtra, 400093, India