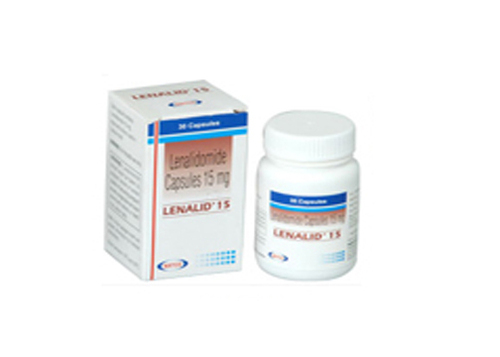 Lenalid
Product Code : ATC-02
Product Description
Lenalid (Lenalidomide) is a generic version of lenalidomide.
Lenalidomide is used to treat anemia (low red blood cells) in patients with a certain type of myelodysplastic syndrome (MDS) called 5q MDS. Patients with this type of MDS may have very low red blood cell counts and require blood transfusions. Lenalidomide is also used in combination with dexamathasone to treat multiple myeloma (plasma cell cancer) in patients who have received at least one prior therapy. Once a medicine has been approved for marketing for a certain use, experience may show that it is also useful for other medical problems. Although these uses are not included in product labeling, lenalidomide is used in certain patients with the following medical condition: Multiple myeloma, first-line treatment, in combination with dexamethasone (treatment of bone marrow cancer; used together with dexamethasone).
In deciding to use a medicine, the risks of taking the medicine must be weighed against the good it will do. This is a decision you and your doctor will make. Tell your doctor if you have ever had any unusual or allergic reaction to lenalidomide or any other medicines. Also tell your health care professional if you have any other types of allergies, such as to foods, dyes, preservatives, or animals. For non-prescription products, read the label or package ingredients carefully.
Contact Us
1/a, Empress Business Bay, Near Uti Mutual Fund, Road No 11, Midc-Andheri East, Mumbai, Maharashtra, 400093, India