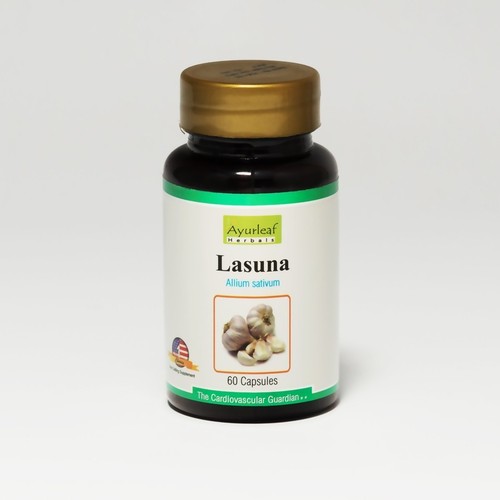 Product Description
Lasuna
While the name Allium sativum may not seem common, the word Garlic evokes mixed reactions from people around the world.
Known for its peculiar odour, Garlic is a common ingredient in world cuisine. Some people just love the garlicky tinge in their food, others can barely stand the odor.
While it is known more for its culinary taste enhancing properties, Lasuna has tremendous hypolipidemic properties. In simple terms, it can prevent the clogging of the arteries that supply blood to organs like the heart.
The bulbous fruit contains alliin, diallyl disulfide (DADS) and ajoene, all of which are compounds that have a plethora of benefits for the body.
In a research undertaken by Hartford Hospital, Connecticut, an analysis of ten clinical trials revealed that Lasuna had a positive influence on normal blood pressure levels in the body.
Benefits of Lasuna
Lasuna is an Antihyperlipidemic. In simpler terms, not only does it reduce cholesterol and triglyceride levels, but also prevents the arteries from getting clogged.
It vasodilates the blood vessels allowing easy flow of blood through them and thereby reduces blood pressure.
It reduces the ability of platelets to form clots inside blood vessels and hence is useful in the treatment of vascular diseases like coronary atherosclerosis.
The active sulphur compounds in the bulbous fruit give it excellent mucolytic and expectorant properties.
Contains selenium which makes it an excellent antioxidant.
Aids digestion and is effective in treating dyspepsia.
Contact Us
1/a, Empress Business Bay, Near Uti Mutual Fund, Road No 11, Midc-Andheri East, Mumbai, Maharashtra, 400093, India