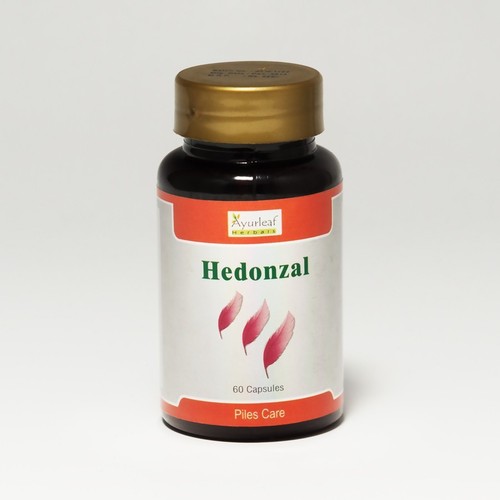 Hedonzal
Product Code : 28
Product Description
Hedonzal
Hermorrhoids is a condition that is prevelant in more than three quarters of the population in the United States. While it mostly occurs after the age of 45, it is now increasingly common in the younger population as well.
In India, it is commonly known as Piles and the condition is characterized by painful and swollen nerves in the anus which become itchy, oily and sometimes even bleed.
In extreme cases, the piles become prolapsed and may be swollen making it impossible to behave normally.
Most synthetic cures are aimed at providing symptomatic releif which does not address the root cause of the problem. However, due to the extremely disturbing nature of the problem, people rely on a battery of drugs to control the symptoms.
The answer lies in Nature
Constipation is one of the main causes of piles. Other factors include pregnancy, ageing and hereditary factors. Natural herbs which are fiber rich and also contain active compounds like flavonoids work by improving the bowel movement and strengthening the anal wall and lining.
Hedonzal, is Ayurleaf's answer to piles and hemorrhoids. It is a safe, reliable and long time solution to a problem that has very few synthetic cures.
The herbal and botanical extracts in Hedonzal are proven to provide effacacious relief from Piles.
Suran (Amorphophallus Campanulatus): Commonly known as Elephant Foot Yam, this vegetable is nutrient dense and fiber rich. It aids in the formation of soft stools and cures constipation. It also contains anti inflammatory properties which help reduce the itching and pain associated with Piles. It is a restorative remedy for dyspepsia.
Limdo (Melia Azadirachta Seeds): Belonging to the Neem family, the seeds of Limdo have effective anti microbial and anti inflammatory properties. It is very effective in soothing the mucous membrane in the anal lining.
Daru Haldi (Berberis Asiatica): Daru Haldi helps to strengthen the thin anal lining and thereby reduces the chances of hemorrhoids becoming prolapsed. Along with the other two herbs, it is very effective in reducing the symptoms of Piles.
Sonamukhi (Cassia Angustifolia): Sonamukhi has traditionally been used as a remedy for indigestion and diarrhea. But it has a soothing action on the intestinal lining and helps to soften hard stools.
Amlaki (Phylanthus Emblica): The Amlaki Rasayan helps to promote healthy skin and reduce surface bleeding due to its vitamin C content. It is very effective in the treatment of bleeding piles.
Contact Us
1/a, Empress Business Bay, Near Uti Mutual Fund, Road No 11, Midc-Andheri East, Mumbai, Maharashtra, 400093, India