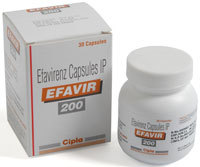 Efavir 200mg Capsuls
Product Code : 04
Product Description
Efavir is an antiviral medication that prevents human immunodeficiency virus (HIV) cells from multiplying in your body.
Efavir 200mg capsul is used to treat HIV, which causes the acquired immunodeficiency syndrome (AIDS). Efavir is not a cure for HIV or AIDS.
Efavir may also be used for purposes not listed in this medication guide.
Pharmacology: Noncompetitive inhibition of HIV-1 reverse transcriptase.
Indication: Treatment of HIV-1 infection in combination with other antiretroviral agents.
Efavir (dideoxyinosine, ddI) is an oral nucleoside reverse transcriptase inhibitor (NRTI). It is a synthetic purine derivative and, similar to zidovudine, zalcitabine, and stavudine. Efavir was originally approved specifically for the treatment of HIV infections in patients who failed therapy with zidovudine. Currently, the CDC recommends that Efavir be given as part of a three-drug regimen that includes another nucleoside reverse transcriptase inhibitor (e.g., lamivudine, stavudine, zidovudine) and a protease inhibitor or Efavir when treating HIV infection.
Store at 15-30 ℃
Contact Us
1/a, Empress Business Bay, Near Uti Mutual Fund, Road No 11, Midc-Andheri East, Mumbai, Maharashtra, 400093, India