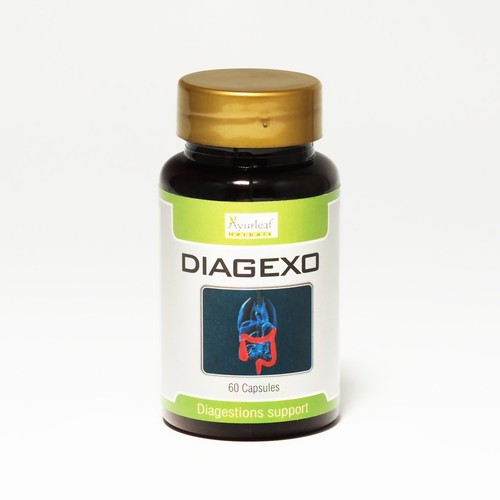 Product Description
Diagex
The digestive system first step to providing your body with the proper nutrients for energy and nourishment. The moment it gets disrupted, you can feel the results instantly.
Long before the synthetic antacids and digestive aids appeared on the shelves, we relied on herbs for treating the many problems associated with our digestive system.
The digestive system that begins in our mouth and continues until the rectum, there are numerous supportive organs that play a key role in the assimilation and absorption of food.
Yet, due to the excessive reliance on junk food and processed food, additives and artificial coloring in our diet, our digestive systems get imbalanced leading to an array of problems like nausea, motion sickness, morning sickness, vomiting, heartburn, dyspepsia, bloating, belching, flatulence, or diarrhea.
Diagex – The Herbal cure
There is a reason why herbal medications are the best way to treat digestive problems in the body. Herbs are rich in demulcents and astringents that can soothe the inflamed lining of our stomach and elementary canal.
Rather than providing a quick albeit temporary fix for a particular pathological problem, herbal extracts have a general nurturing effect on the digestive system and promote the release of digestive juices.
Diagex, from Ayurleaf is a potent herbal formulation that helps restore the delicate balance of our digestive systems. It also promotes digestion, reduces acid reflux and acts as a purgative.
Contact Us
1/a, Empress Business Bay, Near Uti Mutual Fund, Road No 11, Midc-Andheri East, Mumbai, Maharashtra, 400093, India