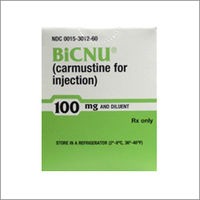 Bicnu Injection
Product Code : 14
Product Description
Drug type: Carmustine is an anti-cancer ("antineoplastic" or "cytotoxic") chemotherapy drug. This medication is classified as an "alkylating agent." (For more detail, see "How this drug works" section below).
What this drug is used for:
Used to treat certain types of brain tumors; glioblastoma, brainstem glioma, medulloblastoma, astrocytoma, ependymoma and metastatic brain tumors.
Other cancers treated with carmustine include multiple myeloma, Hodgkin's disease, non-Hodgkin's lymphomas, melanoma, lung cancer, colon cancer.
Note: If a drug has been approved for one use, physicians sometimes elect to use this same drug for other problems if they believe it may be helpful.
How this drug is given:
Carmustine is usually given by an infusion into a vein (intravenous, IV).
There is no pill form of this medication.
There is a form of this medication (Gliadel® wafer) that can be placed and left in the cavity after surgical removal of a brain tumor. The carmustine wafer allows for delivery of the drug directly to the site of the brain tumor. (See separate listing "carmustine wafer" for more details regarding this formulation).
The amount of carmustine that you will receive depends on many factors, including your height and weight, your general health or other health problems, and the type of cancer or condition being treated. Your doctor will determine your dose and schedule.
Contact Us
1/a, Empress Business Bay, Near Uti Mutual Fund, Road No 11, Midc-Andheri East, Mumbai, Maharashtra, 400093, India