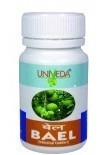 Product Description
Culture in the Indian Subcontinent has always been closely linked with nature. Plants & Trees, especially the ones that are beneficial to the human body are often considered sacred and even worshipped.
Mythology has references to certain trees being the adobe of gods.
Ayurveda too draws rich inspiration from spirituality and many of its herbs and plants are sourced from trees which are considered to be sacred.
The Bael tree is one of them. It is also known as woodapple and stoneapple.
While the fruit has been used since centuries for its digestive and carmative properties, various parts of the tree are now being used in herbal formulations.
Contact Us
1/a, Empress Business Bay, Near Uti Mutual Fund, Road No 11, Midc-Andheri East, Mumbai, Maharashtra, 400093, India