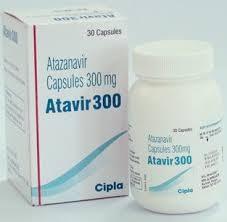 Atavir 300mg Cap.
Product Code : 06
Product Description
ATAVIR Capsules must be taken with food.
The recommended oral dosage of ATAVIR Capsules depends on the treatment history of the patient and the use of other co-administered drugs. When co-administered with H 2 -receptor antagonists, or proton-pump inhibitors, dose separation may be required (see dose recommendations below).
When co-administered with didanosine buffered or enteric-coated formulations, ATAVIR Capsules should be given (with food) 2 hours before or 1 hour after didanosine.
ATAVIR Capsules without ritonavir are not recommended for treatment-experienced patients with prior virologic failure.
Contact Us
1/a, Empress Business Bay, Near Uti Mutual Fund, Road No 11, Midc-Andheri East, Mumbai, Maharashtra, 400093, India