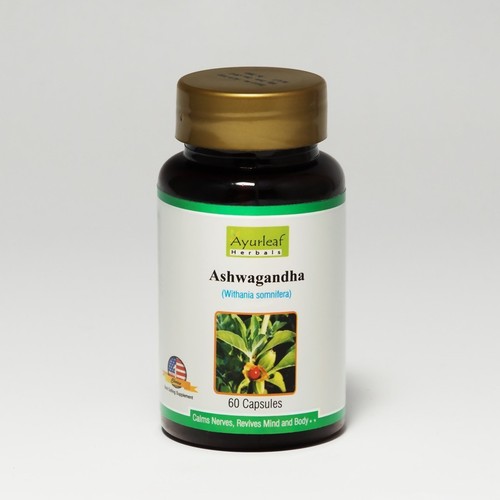 Ashwagandha Capsules
Product Code : 07
Product Description
Ashwagandha Capsules
The ancient Ayurvedic texts frequently mention the usage of one herb for a multitude of conditions. It is called Withania Somnifera or Ashwagandha in simple terms.
It is considered to be one of the most important and most vital herbs in Ayurvedic medicine.
From potential restorative benefits that help strengthen the immune system after a disease to being a potent libido enhancer for both males and females, Ashwagandha has magical and mysterious properties that are now scientifically proven and documented.
It is also called Indian Ginseng due to its energy boosting and stress relieving properties although it is not botanically linked to Ginseng.
In Sanskrit, Ashwagandha means 'The Smell of the Horse'. While this may be connected to a sweaty odor that the plant emanates while flowering or bearing fruit, another theory implies that it empowers the user with the strength and the vigor of a horse.
Benefits of Ashwagandha
Initial clinical studies were so effective that it trigerred a keen interest from the global scientific community.
Almost 216 studies have been conducted so far on the healing effects of the root, the leaf and the fruit of the Ashwagandha plant.
It is known to be rich in withanolides, (steroidal lactones), alkaloids, choline, fatty acids, amino acids, and a variety of sugars that are beneficial for a variety of conditions.

Some of the immediate benefits are:
Boosts sexual stamina and libido in both men and women
Effectively reduces stress
Enhances cognitive function, memory and learning
Helps reduce anxiety and depression
Improves the mood
Does not induce drowsiness
Reduces harmful cholesterol levels
Improves Joint Mobility and function
Helps control obesity
Offers anti-inflammatory benefits
Contact Us
1/a, Empress Business Bay, Near Uti Mutual Fund, Road No 11, Midc-Andheri East, Mumbai, Maharashtra, 400093, India