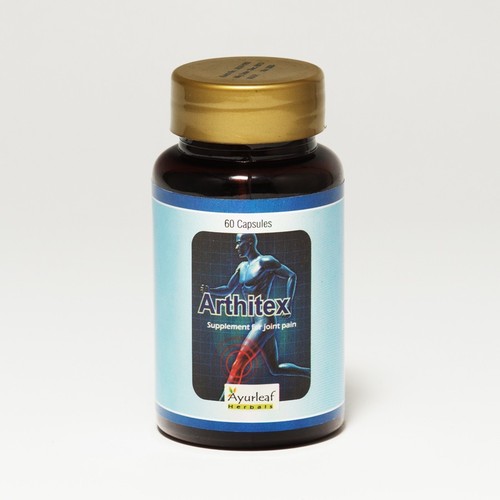 Arthitex
Product Code : 24
Product Description
Arthitex
Arthritis in its many forms cripples the lives of millions of people around the world each day. The degenerative joint disorder is so prevalent, that it is estimated that by the year 2030, a whopping 67 million Americans will be suffering from it.
What makes it such a difficult condition to manage is that it can affect the person's movement and ability to function in day to day life.
Every move becomes painful. Walking normally is a dream for many.
Lifting objects can also become increasingly difficult as the disease progresses.
In extreme cases, life can become totally dependent on another person.
Arthritis treatment options
The existing medications for arthritis are mostly painkillers that mask the pain and leave the actual condition untreated.
Prolonged usage of these painkillers can cause severe and permanent damage to one's liver.
So, once again, Ayurleaf's panel of researchers and scientists worked relentlessly to find the secret to curing Arthritis in Natural herbs.
While there were several herbs that are known to improve the condition, there were very few formulations that blended these herbs in the right proportion.
Arthitex – Safe and Natural Arthritis cure
Our formulation Arthitex is a combination of ancient and powerful herbs that
Rasna (Alpinia Galanga): Rasna is a perennial herb that is rich in iron, sodium, vitamin A, vitamin C, flavonoids and phytonutrients. But what makes it special is that it has potent anti inflammatory properties that help reduce the inflammation caused in the joints due to Arthritis. Users have received instant relief from the crippling pain the joints.
Punarnava (Borhavia Diffusa): In certain cases, arthritis may be triggered due to the retention of excessive fluids in the body. Punarvana is known to help reduce fluid rentention and renew and rejuvenate the joint tissues. It also contains anti inflammatory properties.
Ajmoda (Ptychotis Ajowan): While Ajmoda is primarily known for its digestive properties, it is also extremely effective in the treatment of rheumatism and arthritis. It contains organic sodium which reduces Arthritic joint deposits by keeping lime and magnesium in a liquid form.
Methi (Trigonella Foenum Glacenum): The humble methi is another herb which finds significant importance for the treatment of arthritis in Ayurveda. It is known to be a potent anti inflammatory agent.
Chopchini (Smilax Glabra): Apart from Ayurveda, Chopchini is also used in traditional Chinese medicine for the treatment of Rheumatoid arthritis, gout and joint pain.
Other than this, Arthitex also contains Sallaki, Ashwagandha, Sunth and Guggulu all of which are powerful anti-oxidants that rejuvenate the system and provide strength and stamina.
Contact Us
1/a, Empress Business Bay, Near Uti Mutual Fund, Road No 11, Midc-Andheri East, Mumbai, Maharashtra, 400093, India