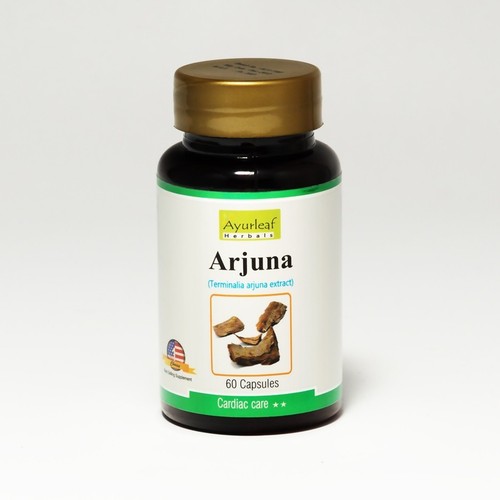 Arjuna Capsule
Product Code : 13
Product Description
Arjuna Capsule
The Indian wild/jungles hold many a secret that may well be the answer we are all looking for.
One such herb/tree with tremendous potential is the bark of the Arjuna tree which is also known as Terminalia Arjuna.
Etched forever in Indian Folklore as Sita's (the wife of Lord Rama) favorite tree, Arjuna is slowly being recognized by the world in its efficiency in improving cardiac functioning.
Loaded with natural alkanoids, the bark has been used for centuries in India to treat cardiovascular problems. While the traditional method was to boil the bark in water or milk and then drink it, mordern technology allows us to harness the potential of the bark into a tiny, easy to use capsule.
Scientific studies have proven that Arjuna may be a lot more effective than synthetic medications at treating angina, heart disease, heart failure, edema, high cholesterol and also to improve the functioning and blood pumping ability of the heart.
Benefits of using Pure Arjuna
Arjuna was first introduced into Ayurvedic scriptures as early as 7th century CE by Vaghbhatta who, apart from recommending it as a potent cardiac tonic, also recommended it for the treatment of wounds, hemorrhages and ulcers when applied topically.
The primary ingredients of the bark are tannins, cardenolide, triterpenoid saponins (arjunic acid, arjunolic acid, arjungenin, arjun glycosides), flavonoids (arjunone, arjunolone,luteolin), gallic acid, ellagic acid, oligomeric proanthocyanidins (OPCs), phytosterols, calcium, magnesium, zinc, and copper.
It brings about a significant improvement in cardiac muscle function and enhances the pumping of the heart.
The powerful antioxidants reduce the damage done by free radicals and strengthen the arteries and nerves of the heart.
It may reduce the levels of LDL cholesterol which in simple terms is harmful cholesterol.
It helps to control and reduce hypertension which in turn may lead to angina pectoris (chest pains)
It contains the potent co enzyme Q-10 which rejuvenates the body and boosts the immunity, increases energy levels and stamina.
Contact Us
1/a, Empress Business Bay, Near Uti Mutual Fund, Road No 11, Midc-Andheri East, Mumbai, Maharashtra, 400093, India