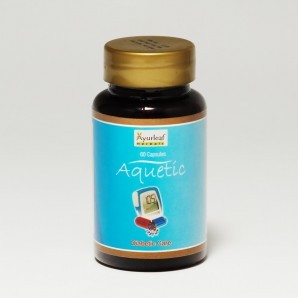 Aquetic
Product Code : 19
Product Description
Aquetic
It is estimated that almost 50 million people in India have diabetes. The statistics around the world is a staggering 200 million people according to WHO.
With an increase in the number of patients suffering from Diabetes, there is an equal increase in the complications that arise due to the disease and also in the number of deaths occurring due to it.
When not controlled properly, Diabetes can cause irreparable damage to the other organs in the body.
Almost 90% of the population suffering from Diabetes, rely on synthetic medication and dietary regulations to control their glycemic index.
But it clearly isn't enough, is it?
Ayurveda recommends the use of certain potent herbs that can not only stimulate the release of insulin by the pancreas but also prevent the production of blood sugar.
Aquetic – The safe Diabetes Cure
By nipping the problem in the bud, that is, by preventing the conversion of the food you eat into excessive blood sugar levels, Aquetic helps to maintain the glycemic index from plummeting too low or escalating too high.
It also contains some herbs which are known to stimulate the release of insulin in the body making it a perfect aid for people suffering from Insulin dependent Diabetes, also known as Type II diabetes.
Contact Us
1/a, Empress Business Bay, Near Uti Mutual Fund, Road No 11, Midc-Andheri East, Mumbai, Maharashtra, 400093, India