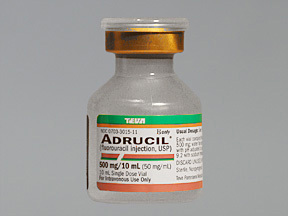 Adrucil
Product Code : 28
Product Description
Use in Cancer
Fluorouracil is approved to be used alone or with other drugs to treat:
Actinic keratosis.
Basal cell carcinoma that is superficial and cannot be removed by surgery.
Breast cancer.
Colorectal cancer that is advanced, has recurred (come back), or has not gotten better with other chemotherapy.

Gastric (stomach) adenocarcinoma.
Pancreatic cancer.

Squamous cell carcinoma of the head and neck that is locally advanced and cannot be treated with surgery.
Contact Us
1/a, Empress Business Bay, Near Uti Mutual Fund, Road No 11, Midc-Andheri East, Mumbai, Maharashtra, 400093, India